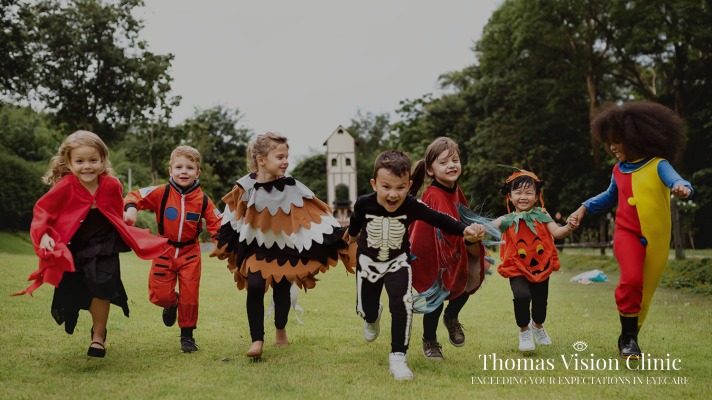 Photo courtesy of rawpixel.
Halloween is fast approaching! Before taking your trick-or-treaters down the block, be sure to check out these safety tips to ensure you and your loved ones have a safe and spook-tacular Halloween!

Cosmetic Contact Lenses - Be Safe, Not Sorry!
Cosmetic contact lenses are particularly popular at Halloween. Like contact lenses for visual correction, cosmetic contact lenses are classified as medical devices, and can pose a risk of harm due to improper fit, use, or care. Complications can be serious, including vision loss. See a licensed eye care professional to properly fit your cosmetic contact lenses. Read the instructions that accompany any package of cosmetic contact lenses to help minimize the risks associated with these medical devices. If blurred vision, redness, discomfort, swelling or discharge occurs, stop using the lenses immediately and see your optometrist.
Ensure Make-up Is Safe
Use products that are hypo-allergenic and make sure that any additives to the face paint are approved (Check the FDA's list of approved color additives if you are unsure). Test any makeup you plan to use in advance. Put a small amount on the arm of the person who will be wearing it. If a rash, redness, swelling, or other signs of irritation develop where the makeup was applied, that's a sign of a possible allergy. When applying make-up near or around the eye, stay away from the lid or lash line — the area where you would normally apply eye liner. If you are applying make-up very close to the eye, only use products approved for use in that area (such as an eye-liner or eye shadow). Do not use blush or lip-liner to create a "red" effect around or on the eye, as some ingredients may not be approved for use in the eye, and bacteria from the mouth can be transmitted to the eye.
Keep Costumes Safe
Wear costumes that say "flame resistant" on the label. If you make your costume, use flame-resistant fabrics such as polyester or nylon. Ensure masks are well-fitted and do not obstruct vision or breathing. Ensure that costumes fit well, to lower the risk of tripping and falling. Avoid sharp or pointy objects such as swords or wands in costumes. A slip or fall could cause serious eye injury, especially for younger children under the age of six.If your child must carry a sword or wand, make sure it is secured to the outfit or offer to carry your child's accessory between houses. If your child does get poked in the eye, thoroughly inspect it for any signs of redness, decreased vision, or pain. Eye injuries may be more serious than they appear! If your child reports pain or blurred vision, or if the eye is discolored or bloodshot, you should take your child to see an optometrist as soon as possible.
Be Seen After Dark
Children should wear bright, reflective clothing that is visible to other pedestrians, motorists, and bicycles. Use reflective tape and stickers on costumes and treat bags to increase visibility. Include the added touch of a lantern, light-up treat bag, or a flashlight, so your little trick-or-treater can easily be seen by others.
From all of us at Thomas Vision Clinic, have a safe and happy Halloween!